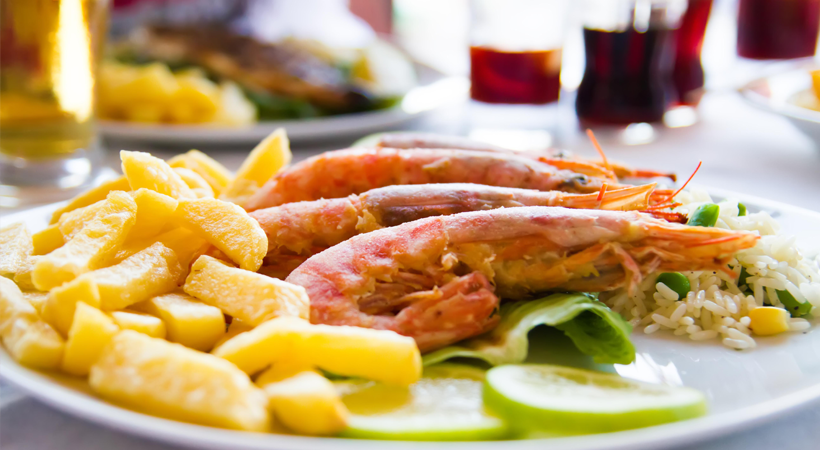 Here it is. A blog post that I've honestly been wanting to write for a long time now. A post that is going to get real and talk about my health from where it really stands. I know things need to change in regards to my health, and that change starts today with this blog post. Some of you who have kept up with me for a while might be asking, "Why now?", and the true answer to that is that I finally feel ready. I've tried to transform my health before – to make a change. The truth is, however, that those times I wasn't ready for a lifestyle change. All I was ready for was a diet, which is not what this is. This post is going to out a lifestyle change when it comes to my eating habits, sleeping habits, general health, and other things related to how I feel. I'm tired of feeling tired all the time. This post sets out to make that happen.
I'm going to break everything down into a few different categories to make it easier. I'm also going to bullet the goals in each category. Again, just for the ease of keeping everything organized. Organization is one of the things that I would consider myself very good at. That being said, health isn't one of them, so let's get into this.
Food
I think it makes to sense to start with thing that a lot of health stems from – food and eating habits. If you're eating healthy, a lot of stuff just happens, and you instantly start feeling better. Food is the fuel for your body. If you put low quality, bad fuel into a car, it'll run poorly. The same holds true for your body and it's fuel – food. Let's get into this. Each bullet point is something that I am going to change.
Stop Eating Fast Food: This is a big one for me. I eat WAY too much fast food, and I would like to say some of it is a group thing that I'm just a part of. That, however, isn't true. If don't want to eat fast food, I don't have to. I am a grown man, and I make my ow choices. That being said, should I be put in a position where I have to eat fast food, I will get a salad or at worst a wrap. No more burgers, fries, tacos, or anything of the like from fast food restraints. Salads and wraps from now on!
Cut Down My Portion Sizes: As someone who has lived in the United States of America his entire life, I eat very Americanized portions. My portions are usually at least two to three times bigger than they should be. I would go as far to say that I probably eat one meal a week that is four times the size it should be. That is outrageous, and there is no way I'm ever going to live a healthy lifestyle with portion sizes of this size. Thus, I am going to cutting all of my portion sizes for every meal of the day in-half. In some cases, I may need to go even more than that, and if that is the case, I will cut down the portion size to what I believe is a reasonable size for the meal.
Drink More Water: At the beginning of August up until about the beginning of September, I drank at least half a gallon of water every single day if not more. This made me feel great. My skin tone improved, my productivity improved, and I simply felt great just from drinking more water every day. I'm going to start this back, and this time I'm not just going to do a 30-day channel like I did before. Thus time, it's something I'm going to do permanently for the foreseeable future. I also bought a new bottle that will help me manage my water intake. I may do a review of it here on the blog. Check it out!
Start Eating Breakfast: People say that breakfast is the most important meal of the day for a reason. It kick starts your day, gives you energy, and sets you on track to have good day full of fun, productivity, and overall awesomeness. Thus, I'm not going to start eating breakfast every day. As for what I'm going to be eating for breakfast, I'm going to mix it up a bit. I plan on eating different kinds of granola cereal depending on the day. All of which are decently healthy and a great way to kickstart your day. In addition to this, I plan on drinking a smooth at least two days a week instead of eating cereal. This is the perfect segue into my next health goal.
Increase My Fruit And Vegetable Intake: As I said at the beginning of this section, food is the human body's fuel, and if you want to be healthy, you need high-quality fuel. Fruits and leafy greens are high-quality fuel that will keep you going through the day. I will be increasing my fruit intake by drinking a smoothie two days a week a for breakfast, and I plan on increasing my leafy green vegetable intake by eating more salads, more vegetables with meals, and also by integrating them into my morning smoothies.
Decrease My Bread & Pasta Intake: When it comes to bad fuel for your body, this has to be near the top if not the top of the list. Pasta and bread are the definition of bad carbohydrates, and for that reason, they make you feel tired, worn-out, and for that reason, you feel unproductive and unmotivated. Currently, I usually eat pasta one meal a day, and every other day, I eat tons of bread, usually from fast food, which I am already cutting out. I plan to cut pasta down to just one meal per week, and cut down bread to just one meal per week also. With this, I expect the way I feel after lunch to improve tremendously.
Sleep
Some may say that sleeping isn't apart of health. I, however, would disagree with that entirely. Sleeping is when your body repairs itself and get itself ready for the day that is ahead. It refreshes our minds, and it gives us energy to get things done. Thus, I think it is just as big of a part of health as food, so I am including it here.
Be In Bed By 10PM: I love getting up early. I love being awake before sunrise, and for that reason, I need to go to bed early. The old saying, "Early to bed, early to rise," is very true. Thus, I've gotta be early to bed getting in bed every night by at least 10PM.
Get At Least 7 Hours of Sleep: Every single night, I need to get at least 7 hours of sleep. Currently, the amount of sleep I get at night is very sporadic. Some nights, I get 9 or more hours and other nights, I get less than 5. That needs to stop. I need to get more consistency in how long I sleep, so I am going to start getting AT LEAST 7 hours of sleep at night. I can get more than 7 hours but not less.
Wake Up On Time: I've always had a problem with getting up on time. I've never been able to get up when I want to get up consistently. I think this spawns from my previous two points. I never go to bed at consistent times, and I never get a consistent amount of sleep every night. Thus, I hope this will be fixed with the last two things I mentioned. I am also going to be using the app Sleep Cycle to track my sleeping and to make sure I wake up when I need to wake up.
Take Less Naps: Naps are the bain of my sleep schedule. I take way too many naps, and because of this, I end up staying up way too late. Staying up late then leads me to getting up late, and it turns into a complete mess. Thus, I want to stop taking as many naps. If I do take a nap, I want to limit it to just 30 minutes and no longer. Currently, my naps will be multiple hours long. Not ideal for a nap at all.
Exercise
What my plan is here may actually suprise some people. My plan for exercising is….. to not exercise. Why? Because I want to focus on my eating and sleeping habits. Once those are in line, and I am confidently eating right and sleeping like I should, I will start exercising. Until then, I'm not going to be exercising at all. It's estimated that 75%-90% of weight loss comes from food, and that is what I am going to focus on for the time being. Exercise would take my focus away from that goal most likely, something that I don't want to happen.
The Wrap-Up
There you have it! My goals for my health over the next 6 months. I will be editing and adapting this post over the next 6 months until I do a follow-up post in which I talk about how I am doing and discuss more goals that I am setting at that time. Until then though, this is going to be my guide on being healthy and living a healthy lifestyle. The journey starts today, and I am sure as hell ready for it!