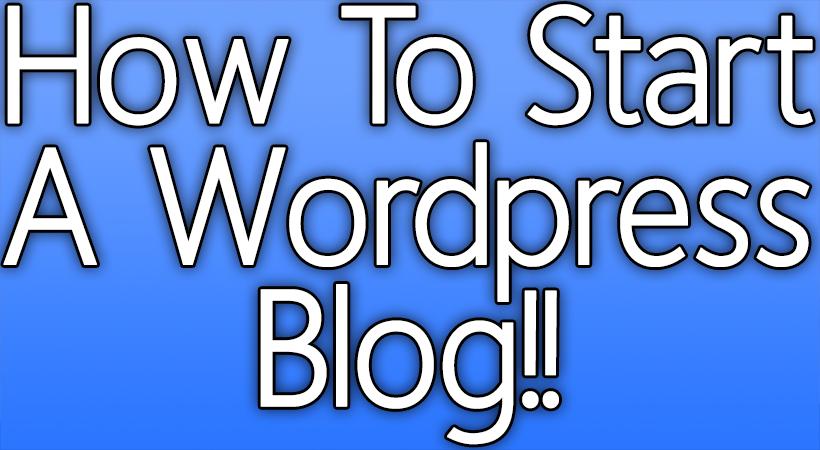 Starting WordPress website or blog has never been easier, and in this article, I am going to walking you through everything in a step-by-step fashion. From buying the domain and hosting all the way to getting your first post up on the website. Let's get started!
Buying Your Domain & Web Hosting
Before you get started with anything else, you need to buy web hosting. There are many options out there, but for this article, we will be using Bluehost. Bluehost is what we use for all of our sites including this one – NicAndPatrick.com. In my honest opinion, they are the best web hosting solution out there, and I recommend them wholeheartedly. As far as signing up for Bluehost goes, it is very easy. Simply go to http://NicAndPatrick.com/Bluehost, and click the big, green "get started now" button. You will then need to choose the plan you want. If you plan on just hosting one website or blog on this hosting account, then, you most likely will want to go with the "starter" package. If you plan on starting more than one website under this hosting account, the "plus" package is probably for you. Nevertheless, on whichever package you decide is right for, click "select" at the bottom of it.
You will then be taken to a place where you can either enter the domain you are wanting, or if you already have a domain, you can enter it here. For the purpose of this tutorial, we will be assuming that you do not have a domain name already purchased. Here, you will want to enter the desired domain for your website. Chances are that domain is already taken though. Thus, you will have to find one that is not take. We have an entire article on this here at NicAndPatrick.com. which you can check out by clicking right here, on picking a great domain name when it seems like all of the ones you want are taken. With that being said, once you have entered a domain name that is not taken, you will be shipped off to a page where you will enter all of your information such as name, address, email, ect., and at the very end of this process, you will be asked for your payment information.
After your provide your payment information, you will setup a Bluehost account, and be good to move onto the next step of setting up a WordPress website. In all honesty, you just completed the hardest part of the process. Not only does it take a little bit of time to choose a domain name and enter all of your information, it makes this real. It makes you starting a website actually become real. It asks you to put your money where your mouth is and take the dive. It's not easy, but speaking from experience, it is totally worth it.
Logging Into The C-Panel
Now that you have your hosting and domain bought, you need to login to the C-Panel. This is the back-end of your hosting account. It allows you to do everything that you will ever need to do in regards to your web-server/hosting. To login to the Bluehost C-Panel, it is super easy. Just go to this URL: https://my.bluehost.com/web-hosting/cplogin, and enter your domain name and the password you chose when you bought web hosting. It will then direct you to the Bluehost C-Panel. Here you will see a lot of things that look very overwhelming such as MySQL databases and phpMyAdmin, but don't fret! You don't have to deal with any of that. Let's install WordPress.
Installing WordPress On Your Website
You've got hosting, you've logged into your C-Panel, and now, you are going to install WordPress. Are you ready? I hope so because it is about to happen. Let's go!
To install WordPress on Bluehost, it is extremely easy. Just scroll down the Bluehost C-Panel, the page you were taken to when you logged in, until you see the "Website Builders" box/category of items. Currently there are for things in this box: WordPress, Simple Scripts, Weebly, and goMobi Mobile. You, for obvious reasons, want to click "WordPress".
After clicking "WordPress", you will taken off to a page where you will want to click the green "Install" button. After that, you will want to select the domain you would wish to install WordPress on. This would be "YOURDOMAIN.com", and click "Check Domain". It will then go through and confirm you can install WordPress on this domain.
Once it has done that, you can click the "Show advanced options" check box. This will make a few more options appear such as "Site Name or Title", "Admin Username", and "Admin Password". Enter what you want here as it can all be changed later, but you do want to remember your Admin Username and Admin Password as this is what you will use to login to your site for the first time with. Nevertheless, once you have done that, you need to agree to the licenses right above the "Install Now" button, and after that is done, you can click that beautiful "Install Now" button. WordPress will now begin installing on your website. This may take a few minutes, but it will be completed shortly. You'll know the process has completed because you will see "Your install is complete!" at the top of the page.
Now, you will want to click the black "View Credentials" button in the top right of the page. This will take you to a page where you will want to click "View" again in the "Actions" column. Here you will be able to see all of your information such as the domain you installed WordPress on, your WordPress admin login URL, and your Username and Password. Let's move on to the next step.
Logging Into Your Website
You did it! You bought a domain name and web hosting, and installed WordPress on that website. Way to go! Now, all you need to is login. To do this, click the "Admin URL" for your site that is show on the Installation Credentials page or go to "http://YOURDOMAIN.com/wp-admin".
However you get to your WordPress admin login page, once you are there, you need to enter the "Admin Username" and "Password" that you created early. If your login credentials are correct, you will be logged into your site. Congratulations, you have now, officially, setup a website running WordPress. You can do whatever you want with it. The possibilities are literally endless. With that being said, I'm going to show you how to post a blog post or whatever you want to call it to your site.
Creating Your First Post
Compared to everything else you have accomplished, this is a piece of cake. To make the first post on your website, assuming your are already logged into your site, by clicking on "Posts" in the menu bar on the right hand side of the screen. After that, click "Add New". You will now be taken off to a page where you can add a title to your post, and actually write the post itself. Do you see the BIG text box on the screen? That is where you write the "body" of your post. That is the place where you put the actual content. You can choose and create categories on the right hand side, and even add a featured image to the post by clicking "Set featured image" in the right hand sidebar. Once you have titled the post, written whatever you like in the big white text box, chosen a category, and set a featured image, you can click the orange "Publish" button towards the top of the page in the left hand sidebar. Your post is now live on your website. Go to http://YOURDOMAIN.com, and you will be able to see it there. Way to go!!
You Did It!!
You are awesome! You just took a huge step towards accomplishing your goal whatever that goal may be. You now have a website up and running the WordPress content management system with your very own first blog post live. I know I've said it already, but congratulations. This is a major achomplishment. You've already made it a lot farther than many people ever will, but don't stop now. We have tons of other information, tools, tips, trick, and more on our site that will help you get your website or blog up and running! Check them out at http://NicAndPatrick.com! Thanks for reading, and again, way to go!!
Video
Watch this tutorial on YouTube by clicking here!