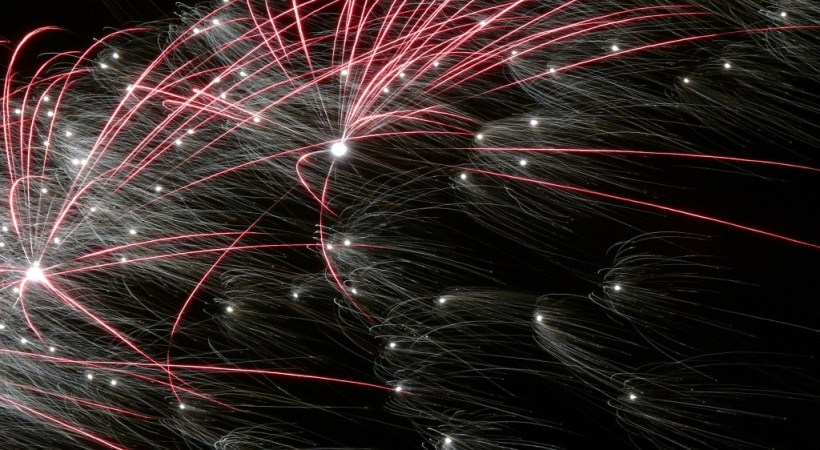 It's safe to say that 2014 was the most successful year of my life, thus far. I had a lot of opportunities that simply didn't exist in the years before, and I grew relationships with people that I would love to see last a lifetime; however, while it was one of the greatest years of my life, there are some things that I look back and wonder what it would have been like if I had taken a different risk or tried something different. Through this article, I want to reflect on what this past year really was for me and use that to help me guide myself to a more successful 2015.
One of the biggest risks that I wanted to take near the beginning and middle of the year was to move to LA in the summer. Now, there are reasons that I wish I had gone, and there are reasons that I am glad I stayed. I wish I had gone because I want to know where I could be at this point. I could either be in a much better situation financially and spiritually. When I say spiritually, I'm not talking about religion, as I'm not religious by the standard definition of the word. When I say spiritually, I'm referring to emotional health and overall happiness. If I had actually moved over 3,000 miles away, there's a huge chance that I would be in a much better place; however, I don't think I was quite ready to leave at the time when it came around. There were a lot of thing, including relationships, that needed improving before I left. I truly believe I could have made it out there and be in a better place, but in a way, I'm glad I didn't go.
The relationships that I was focusing on and wanted needed work before separation like that would have been a good idea. So instead, Nic and I took the opportunities we had in front of us here, and we took them for what they were and made something from them.
In July of 2014, Nic and I took one of the most inspirational trips we've endured. I don't think we've really told this story to many people, but Nic and I made a tradition in the summer to go to Waffle House every Friday morning for a breakfast to catch up, and one morning, Nic said "Let's go to New York – Today." And by that, he was completely serious. However, we didn't leave that day, thankfully. We waited what I remember to be about two weeks, which seemed to be the two longest weeks of my life while I waited and anticipated the first big adventure I would experience on my own without family. We left a few days before the Fourth of July, and we arrived to our house we had rented for a few days about 1,000 hours later, or so it felt like. Most of it seemed to be horribly boring farm land in Pennsylvania, actually, even though Virginia was the longest state we had to drive through. A few days later, my perspective of so many things had changed, and I was more motivated than ever to get out and do something bigger and better with my life.
When we got back from the trip, we launched our most successful business yet, DropbackTV. The YouTube network now has over 34,000,000+ total views with almost 3,700 partners, growing at a consistent and incredible rate. CrysisTV (the network, not the company) doesn't even stand up to compare to the statistics of this network, even after a year of operation. This network has been operating since August 1st, and it's already pulling those stats.
Additionally, once we returned from New York City, I funded my live trading account, which is still pulling returns that I sometimes can't believe, and just last week was my biggest weekly-return since starting. It still baffles me that I can make more in one single day than I used to make in over a month with working for someone else. Trading is something that I can see myself doing for the rest of my life, no matter what business ventures I involve myself in. I see myself continuing to trade for years to come.
Along with the network and trading, Nic and I also started a new section of the company – TheMinecraftProject. There isn't too much to say about this, as it was a quick and simple way of setting up a new income stream and a way to bring the community closer together through gaming. The server right now does seem to slowly grow each day; however, revenue for the server has somewhat stagnated around it's current place, with a few monthly subscriptions and a decent amount of one-time payments from players. This is something that I want to take a look at in the coming weeks to change, as it can become incredibly passive income by simply making it an enjoyable place for the players.
However, with these successes also comes quite a bit of failures. Let's just name a few.
PickWebHosting

This was to be a website based entirely around helping people find the best web host for their company, blog, etc. The plan was for it to also have tutorials hosted on it, with it's profit platform being affiliate sales.

The Original TheMinecraftProject.com

The original idea for this website was to be a place where gamers could find the best custom maps, tutorials, texture packs, etc. for their Minecraft game; however, the profit platform was not an effective enough motivator, and the site fell through. It was then remodeled to become a Minecraft Server, which I mentioned above.
There were other small failures here and there, but those are the two that really stick out in my head.
Along with growing my knowledge in business, I also grew some fantastic relationships over the year. While Nic and I have been friends for a few years now, 2014 really allowed our friendship and business partnership to grow more at a faster rate than it had before, and my relationship with my girlfriend greatly improved throughout the year, and I'm excited to spend this year and many more with both of them. I truly can't imagine where I would be without the emotional support of my girlfriend, and I'm very thankful to have her in my life. I really look forward to, hopefully, many more years with her.
So that about sums it up for 2014. It was one of the fastest, craziest, and most fun year of my life. Oh yeah, did I mention I graduated high school somewhere in there too? That's a thing, I guess. Here's to a successful, happy, and fun 2015!