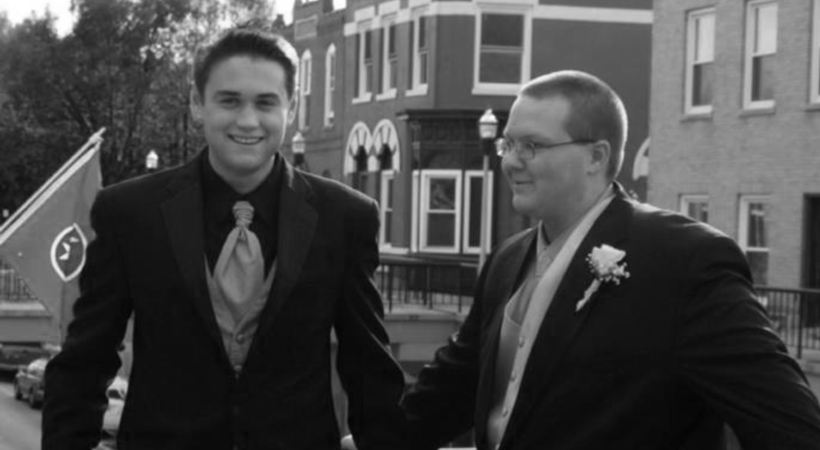 This a dual post by both Nic King And Patrick Fassler. It was heavily collaborated on, and written together. Thus, we, us, and other group pronouns are used.
Recently, we've been seeing a lot of people posting on Facebook talking about how they are going to college, starting their classes, and dealing with the homework they are getting. This really got us thinking. Everyone knows what these people are going through. This is the road that most people travel. This is the road that, as of 2013, 66% of high school graduates took. That being said, neither of us fit into that statistic. We took the road less traveled, some may say. We decide not to go to college. We decided, and we still truly believe, a college degree isn't necessary for success, especially when you are an entrepreneur. All that is needed is hard work, perseverance, and the drive to follow your passions, even when it gets hard to do so.
How are things going on this road less traveled? Well, as good as a sob story can be to read, this isn't one. While many of our former peers have been off starting college and starting a new chapter in their lives, we've been off starting new websites, traveling to New York just for the experience of it, and focusing on personal health and life development. A lot of things many people don't start thinking about and doing until at least their mid-to-late 20's, we, however, are doing these things now, because we don't have a choice.
We work 80 or more hours every single week. Currently, we're sitting here writing this blog post at 1:30AM, and we've both got to be up at 8AM tomorrow to go the "office", A.K.A. Patrick's basement, by 9AM to start working on our on many online ventures. This isn't a life we regret, dislike, or hate whatsoever. This is a life we love.
In the past 3 months alone, we have made tons of progress with what we do, both personally and together as a team. Patrick has started trading Forex (foreign exchange/currency) and has had multiple days where he has profited more than he used to make in a month working at a local car wash. Patrick plans to continue swing trading currency for many years to come and plans to continue his research and education in the trading industry, looking for new setup opportunities and tweak a strategy over time to work for his trading needs. Additionally, Nic's YouTube channel has blown up. He just hit 30,000 subscribers and 3.5 million total video views. It's also getting over 150 new subscribers and over 20,000 new views every single day. Those are numbers he thought he would never see, and now, he's been getting them since the beginning of July, which is simply incredible.
Speaking of the beginning of July, on July 1st, we set out for the Big Apple – New York City. We had no real reason to go. We could have stayed home and gotten everything we need to do get done work wise; however, we didn't. We went for the experience of a lifetime. We went to New York, traveled around the city experiencing the great things that New York City has to offer, and we even watched the Macy's 4th of July Fireworks Show from FDR Drive. It was incredible, and it truly was the experience of a lifetime. It made us question everything we were doing with our business, and it made us want to change things. Thus, our newest business property was born – DropbackTV.
DropbackTV is revolutionary. It took the YouTube advertising industry and turned it upside down. DropbackTV helps our content partners grow their YouTube channels. It helps them become the best YouTube content creators they can be, and it rewards them as they grow so they aren't stuck under a beginners contract forever. As a matter of fact, they aren't stuck under any contract at all; our partners can leave at anytime for any reason or no reason. Additionally, there is NO requirement, so no matter how big or small a YouTube channel is, they can get partnered with DropbackTV. This was revolutionary. Nothing like this had ever been done in the YouTube advertising industry, and for that reason, in the first 45 days since we launched, DropbackTV has grown to have over 1,500 content partners that have over 10.75 million total views and over 125,000 total subscribes. Numbers that took us over 6 months to achieve with our old advertising network – CrysisTV.
In addition to the success of DropbackTV, our hobby URL shortening project, RKTus, has been growing incredibly fast with zero marketing. RKTus has had over 170,000 links shortened that have been clicked over 1.1 million times. Also, did we mention that RKTus was setup from start to finish in less than 24 hours? Well, it was, and we never even expected it to be this successful. We just wanted something to be up on the domain. Check it out if you ever need to make a long link look a lot shorter and prettier.
We also recently restarted this blog – NicAndPatrick.com. Here, you'll find both of our random ramblings about life, entrepreneurship, business, and anything else we want to talk about. Nic actually wrote an article on why he wanted to start blogging again. You can check that our here. This website also gives us a central hub to send people to if they want to hear our whole story, or if they want to know all of things we recommend for their businesses, websites, and YouTube channels. We really look forward to blogging more, and we encourage you to swing back by once a week or so to see what new content has appeared. It may be something you're interested in.
And that's about it. Everything that we have been up to on the road less traveled.  While it may be a harder road, it sure is a hell of a lot more fun, and it is nice to wake up every morning and know that what we are about to do that day, we will love. The life we live is all about changing the way things have previously been done, and this is a goal we have set out to achieve.
If you would like one of these posts every three months, let us know in the comments below this blog post, and if there is enough response, we'll make it happen! Also, share this post with your friends on Twitter, Facebook, and LinkedIn if you enjoyed reading!